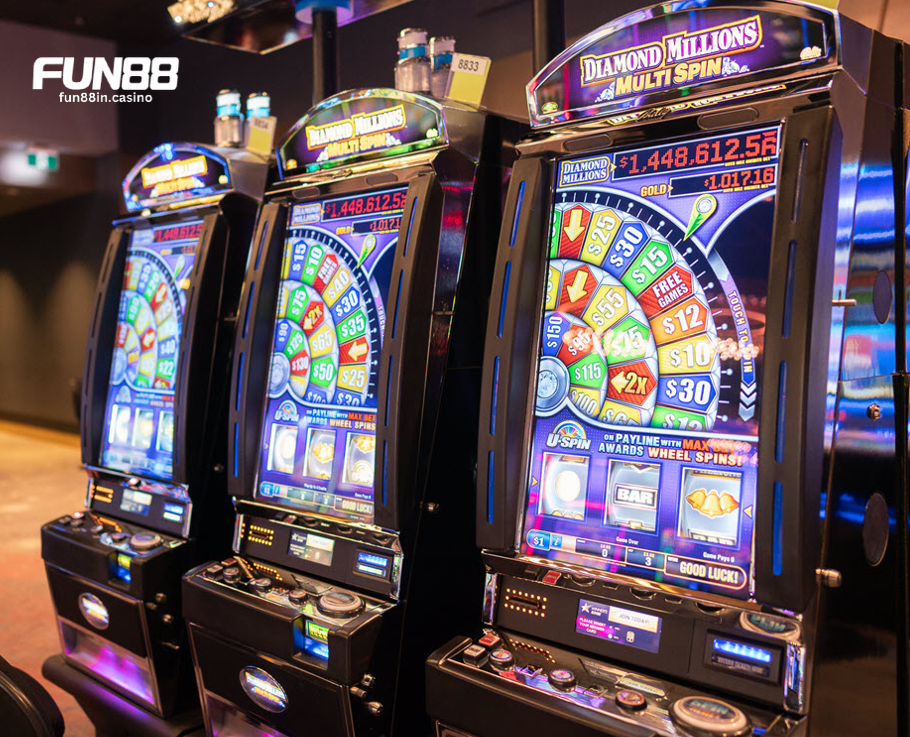 Slot machines are a way for people to unwind or get away from their troubles for a day. For these people, constantly winning a little bit is much more important than doubling their bankroll. This article provides various ways to boost the number of wins with your slot session. There is no legal way that allows a gambler to win on slots every time – only strategies to help a gambler increase its chances!
Visit FUN88 and play real money casino games.
1. PICK SLOT MACHINES WITH HIGH RTP RATES
When going through slot games among online gambling sites or brick & mortar casinos, check the RTP stats of a title. Return-to-player (RTP) is the player's edge against the house. Let us take Good Girl Bad Girl from Betsoft with 97.8%, a high RTP, as an example.
RTP indicates how much a player can expect a slot can payback their bet. If you were to bet $100 on Good Girl Bad Girl with an RTP of 97.8%, you are likely to get back $97.8 after spinning the reels several times. Take note that the returns are a probability occurring after a long period of playing the game and not a guaranteed outcome.
Slots with less than 95% RTP are low-range games, while medium-range RTPs have around 95% – 98%. Higher-ranged RTP slots have a 98% – 99% rate and are likely to provide consistent winnings with decent returns. Mega Joker from NetEnt is a good example of a slot with a 99% RTP rate that features a Supermeter mode with incredibly high payouts. Finding the right RTP slots is one of the tricks to winning at casinos. One example is Wonder 4 Tall Fortune, a loose slot found in Reno.
2. CHOOSE LOW-VOLATILITY SLOTS
Another stat to consider is the volatility of the slot, which you can find along with the RTP rate of the title. Volatility is a measure of a slot's payout rate after a set number of spins.
High volatility slots provide the least number of wins for some time, but these also provide the best possible payout rate for each win. Medium volatility slots are well-rounded games where you can expect regular wins with a good payout rate.
What you want to play are low volatility slots. While they offer small returns on your wins, low-volatility slots frequently reward players with more wins than other games.
One example of a low-volatility slot is Wild Scarabs from Microgaming, which features a 243-ways-to-win payline mechanic. Its most popular feature is the Wild Deal which replaces one to four wild symbols on the reel if a non-winning spin occurs while a wild symbol is on one of the reels.
3. AVOID JACKPOT SLOTS
While the massive fortune looks attractive, you want to avoid spending your money on progressive jackpot slots. Progressive slots are incredibly volatile due to their massive payout rate. When playing these types of slots, expect a dry spell for an extensive period. Your slot odds of triggering the highest payout of these games are incredibly slim.
Another issue with jackpot slots is their slim payouts for any small wins since the RTP among these games is incredibly low. Take Mega Moolah, Microgaming's most popular progressive jackpot slots, as an example, with its RTP of only 88.12%. At that rate, you can only expect a return of $88.12 with a $100 bet set on multiple spins. Apart from the jackpot, a few features result in a large payout during the game's normal mode.
Psychologically, progressive jackpots can rob players of the satisfaction of a decent payout because of the large prize that seems just within their reach. Non-jackpot slots can provide a better experience in terms of payout rates and winning consistency.
Experience several seasons of casino games when you play here!
all fun at FUN88!
Read more articles about online casinos