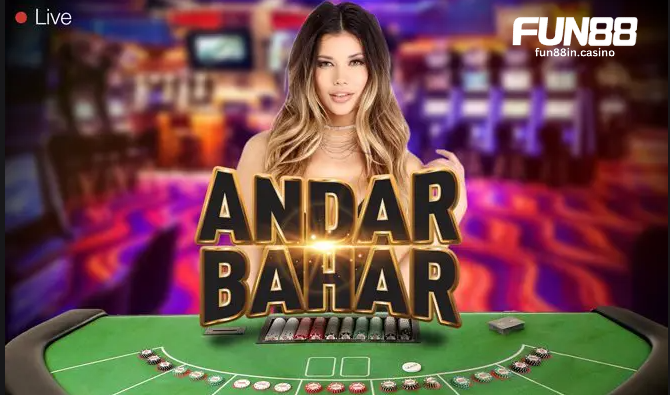 Andar Bahar is a well known and popular Indian card game which is thought to have originated in Bangalore. Also referred to as Katti or Mangatha, Andar Bahar is a betting game, traditionally played without any real money. Compared to Online Blackjack or Online Baccarat it is a newer game but has a loyal fanbase who avidly play and win. It's quick and easy to learn, and there is no limit to the number of people who can play the game.
Visit FUN88 and play Online Andar Bahar games to ensure you use the casino's bonus offer for more chances to win.
What Is Online Andar Bahar?
Online Andar Bahar involves playing the game as you would typically do with your friends or family. There isn't that much difference, except that you are enjoying the excitement with other online players, or alone. Try your luck either for free fun or real money thrills. It's fast, furious, totally immersive, and will keep you on the edge of your seat.
The good thing about this traditional popular game is that it's totally portable. You only normally need a deck of cards with no added complications of gaming tables, wheels or chips. When you play Andar Bahar online, it becomes genuinely mobile. You can enjoy it on your PC, smartphone or tablet at the touch of a screen whenever you choose.
How To Play Andar Bahar Card Game
When you play Andar Bahar the outcome, as with many card games, relies mostly on luck with a little bit of educated guesswork. A single deck of 52 cards is used for the rapid-fire gameplay. To keep it nice and simple, the odds of winning in the game are 50/50.
Players then choose from two sides on the table, which is either Andar (the left side) or Bahar (the right side). When the cards are cut and dealt, the idea is to predict which side an identically numbered card to the chosen card will appear. It is that straightforward!
Basic Rules
Although Andar Bahar is a simple card game, there are some general rules and gameplay features that you will need to know before you start playing. These can vary a little between online casinos, newer options with added features and the live casino. However, the standard rules of Andar Bahar are as follows:
The pack of cards is cut to reveal a card which all players can see.
Players then place a bet on whether a card with the same face value will appear in Andar (to the left) or Bahar (to the right).
Cards are then dealt to the Andar and Bahar betting spots. If the first card is a black suit (clubs or spades), then dealing will start from Andar. If it is red (hearts or diamonds), then it will start from Bahar.
If additional betting is included, then 2 cards will be dealt to each betting spot and players will place their final bets.
The cards are then dealt alternately to each of the betting spots while you watch with anticipation for a match.
When an identical value card to the chosen one is dealt to either of the betting spots, then the round will end.
If you have made a bet on the correct spot, Andar or Bahar, then you have won and will receive your payout.
All other bets are lost to the dealer.
As an example, the dealers cut shows a card value of 5. You place a bet on Andar. Cards are then dealt to both betting spots, and a card with the same value of 5 appears in the Andar position. This means your original bet will win. If the card appears in Bahar, then you made the wrong choice and will lose your Andar Bahar bet.
Game Terms
One of the benefits of playing Andar Bahar is that there is no complicated terminology to learn and remember. It's a game that's easy to grasp and can be enjoyed by all ages. Players only have to remember two important things:
Andar – refers to the left betting spot on the table. It means 'inside' in Hindi.
Bahar – refers to the right betting spot on the table. It means 'outside' in Hindi.
Placing Bets
If you are playing Andar Bahar online, then usually there will be a minimum wager that can be placed to participate, which can be as low as ₹10. There will also be a maximum amount which can be as high as ₹10,000. You will be able to choose a game, or a live casino table, with betting limits that fit your budget and personal preferences.
Again, there may be different variations of Andar Bahar available, especially in the live casinos or video versions. However, generally, once the lead card has been displayed, you will be instructed to "Place your bets, please." You will then have a few seconds to choose Andar or Bahar as your prediction and place your wager.
Additional Side Bets
In some online Andar Bahar games, there may also be some interesting additional side bets allowed. Players may be able to also bet against the card that the dealer cuts. These side bets can include guessing the lead cards suit or sometimes whether it will be below or above a certain number. Bets are placed by clicking on the appropriate chip amount on the screen, then clicking on the card.
You will always find onscreen Andar Bahar instructions on wagering limits, how to place bets, and if any additional bets can also be at the table maximum limit.
Payouts
The payouts when playing Andar Bahar are always made on the player's accurate guess of where the matching card number will appear. However, this also usually relates to whether the first card was a black or red suit and whether it was dealt to Andar or Bahar.
If the matching card appears on the same side as the first dealt card, then players receive a payout of 90%. So, if you had made a bet of ₹100 then you would receive ₹190 in winnings. If the card appears on the other side, then players receive 100%, meaning that your Andar Bahar payout would be ₹200.
Winning Tricks
Andar Bahar is an extremely interesting and fast-paced card game to play. However, there are not really any tricks players can use to increase their chances of success. Unlike Teen Patti, the result from Andar Bahar depends primarily on good luck. As with most games of chance, there are no strategy guides which can genuinely promise to increase the odds or promise a payout.
However, if you really want to boost your chances of winning, then there are some general tips that will help. It's essential to study the game before you start playing and understand how the dealing and betting works. You can even practise offline. Remember too to set yourself a budget before you start playing for real money.
Experience several seasons of casino games when you play here!
all fun at FUN88!