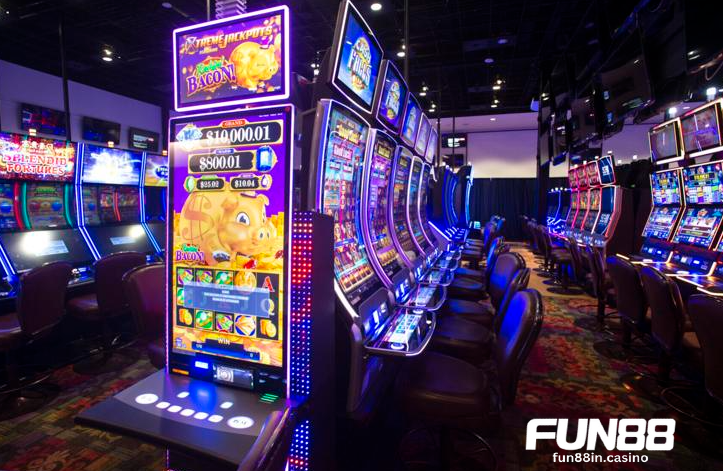 We all know playing slots to win is not easy. Given the high odds of a massive payout or a jackpot, a handful of people have shown everyone that the dream of a small fortune is within their grasp. In this article, we go through ten people who won the biggest slot machine payouts.
Dropping a credit, hitting the spin button, and hoping those symbols stop at the right pay lines are the quintessential slot experience. Everyone's hopes and dreams of seeing those high-paying symbols stop at the right spot are often shattered after spending massive amounts of money without a win.
Visit FUN88 and play real money casino games.
1. $43,000,000 ON SPHINX (RESORT WORLD CASINO, LAS VEGAS)
Katrina Bookman took a trip to Resort World Casino located in New York in August 2016. She took the Sphinx slot for a spin, but the game took her for a wild ride. After one heart-pounding spin, the screen displayed "$42.9 million jackpot win".
She would have walked home with millions of dollars, but the resort staff said that the top jackpot payout is only $6,500. To compensate, they offer a consolation prize of $2.25 and a free steak dinner. Bookman was not having that as she took Resorts World Casino to the courts to get the full $42.9 million jackpot prize.
2. $39,000,000 ON MEGABUCKS (EXCALIBUR CASINO, LAS VEGAS)
At the Excalibur Casino, one of the highest paying casinos in Las Vegas, a 25-year old software engineer from LA made his way to a Megabucks cabinet in 2003. With a $100 at stake, he spins the reel one afternoon. At some point, he struck gold with a whopping $39 million jackpot prize.
Hitting the massive jackpot set off bells and whistles across various officials, including ones from the Nevada Gaming Control Board who needs to verify the winner. Despite being young, officials verify that the software engineer was 25 and of legal gambling age. Officials also set the jackpot to be given in increments of $1.5 million per year.
3. $34,900,000 ON MEGABUCKS (DESERT INN HOTEL AND CASINO, LAS VEGAS)
Cynthia Jay Brennan was making ends meet as a Las Vegas cocktail waiter and is willing to take more shifts to fund her wedding. In January 2000, she was joining a birthday celebration for her boyfriend's mother at the Desert Inn Hotel and Casino. She decided to hit the casino floor with her significant other who will make sure she does not spend more than $100.
Among the slots on the floor, she happened upon Megabucks, wagered $3 a spin. While staying within her spending limits, she kept on spinning until the three jackpot symbols lined up and awarding her with a $35 million payout.
4. $27,580,879 ON MEGABUCKS (PALACE STATION CASINO, LAS VEGAS)
"Stopping while you are ahead" is good advice for anyone looking to make a tidy profit during a visit to Las Vegas. However, a retired flight attendant did not take that advice when she played Megabucks in November 1998 and took home a massive profit instead.  
Like most people on the list, she was planning to spend only $100. After several spins, she exhausted her set bankroll and decided to play with $100 more. Spending twice the limit would have made anyone cut their losses, but she persisted and spent $100 more. After more than $300 worth of spins, her persistence paid off as she wins the jackpot prize of $27 million.
Experience several seasons of casino games when you play here!
all fun at FUN88!
Read more articles about online casinos