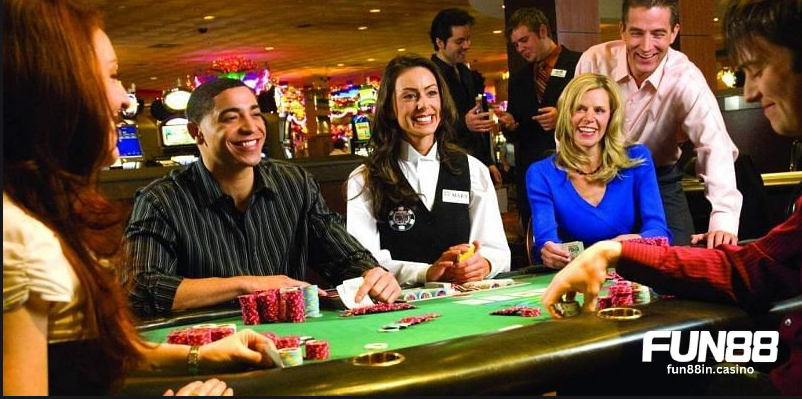 Where to play LUCKY 7
We recommend that you can use FUN88
| | |
| --- | --- |
| Regular Bets | Payout |
| Above 7 | 1:1 |
| 7 | 11:1 |
| Below 7 | 1:1 |
| Side Bet – Colour |   |
| Red | 0.9:1 |
| Black | 0.9:1 |
| Side Bet – Odd, Even |   |
| Odd | 0.8:1 |
| Even | 1:1 |
Strategies to Win More Often in Lucky 7
Even though Lucky 7 is a game of chance, you can apply some strategies to increase your chances of winning more. Let's start by understanding the details.
Lucky 7 is played using 8 decks of 52 cards. That is a total of 416 cards (52 x 8).
32 cards are 7, 160 cards are even, 256 cards are odd, 192 cards are up, and 192 are down. There are 208 black cards and 208 red cards.
The possibility of getting a 7 up is 46.15% and a 7 down is also 46.15%
The possibility of getting a 7 is just about 7.7%
The possibility of getting an even card is 38.46% while that of odd is 61.54%.
You have a 50% chance of getting a red or black card
The odd bet is the most likely out of all possible outcomes. Thus, the odd bet could be the best bet to place at the beginning of the shoe. But as the more cards are dealt, the cards in the shoe get fewer. Then, the possibility of landing each outcome begins to change.
Luckily, you can track this using the statistics which shows previously dealt cards below the screen. The statistics will help you calculate the cards left in the shoe which will guide you in making bets and increasing your odds.
In-Game Features
Lucky 7 includes many exciting features. For example, it includes a chat feature which allows you to chat with the dealer and get feedback. It also allows dealer tipping like in real casinos. You can also easily adjust the sound and even turn it off.
Another great feature is the statistics which you can find at the left-hand bottom of the screen. This helps you see previous wins and losses and how it has affected the odds of the betting options. You are also allowed to check the paytable to know how much earn from winning each bet.
Experience several seasons of casino games when you play here!
all fun at FUN88!
Read more articles about CARD GAMES