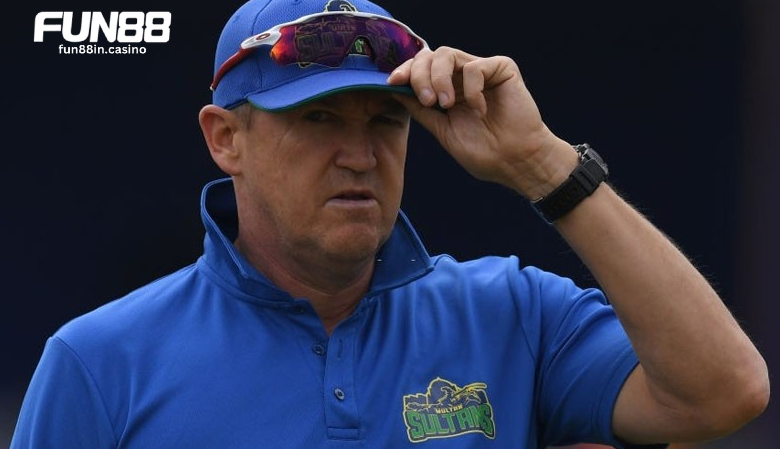 Former Zimbabwean skipper Andy Flower has emerged as a hot favourite to take over as the Indian head coach after this year's ICC Men's ODI World Cup. Prasanna Agoram, a Level 3 Certified Coach, Qualified Umpire and renowned Performance Analyst who has worked with the South African International Team for 11 years and in other major T20 leagues across the world, made this revelation on Twitter.
"Heard from few close sources from my cricketing circles – Andy Flower is one of the favourites to take over as head coach for team India post World Cup 2023," Prasanna tweeted, sparking rumours of a possible change in guard after the mega tournament in the country this year.
Visit FUN88 and play real money casino games.
Andy Flower to take over? A look at Rahul Dravid's Track Record as Team India head coach
Dravid's contract with the national team ends after the 2023 ODI World Cup. He assumed responsibilities as the head coach after India's crushing defeat in the ICC Men's T20 World Cup in the United Arab Emirates (UAE) in 2021.
However, the ex-Indian skipper's tenure as a tactician has not unfolded in the manner he would have hoped it to. Success in multi-nation tournaments continues to elude India even until now.
The Men in Blue first lost the decisive fifth Test at Edgbaston in 2022 against England, which put water over their chances of securing a historic series win on English soil. They then failed to even make it to the finals of the Asia Cup last year, which was followed by a semi-final exit to England in the ICC Men's T20 World Cup in Australia later that year.
2023 has not been without any heartbreaks either as the Baggy Greens rolled over Team India in the World Test Championship (WTC) final at The Oval last month. Amidst these circumstances, there must be high pressure on Dravid & Co. to lift the trophy in the World Cup this year considering that they have no ground to seek an extension otherwise.
Meanwhile, Flower has previously coached the England national team, taking them to number one in the world. Also, Flower took on the consultant position for Australia for the WTC Final, and has had stints at multiple franchises in T20 leagues across the world, making him an experienced and qualified candidate for such a big role.
The former Zimbabwean captain recently left his post as coach of Lucknow Super Giants (LSG) after steering them to two playoffs' appearances in their first two seasons. Former Australia opener Justin Langer has taken over as coach of the franchise.
Experience several seasons of casino games when you play here!
all fun at FUN88!
Read more articles about online casinos