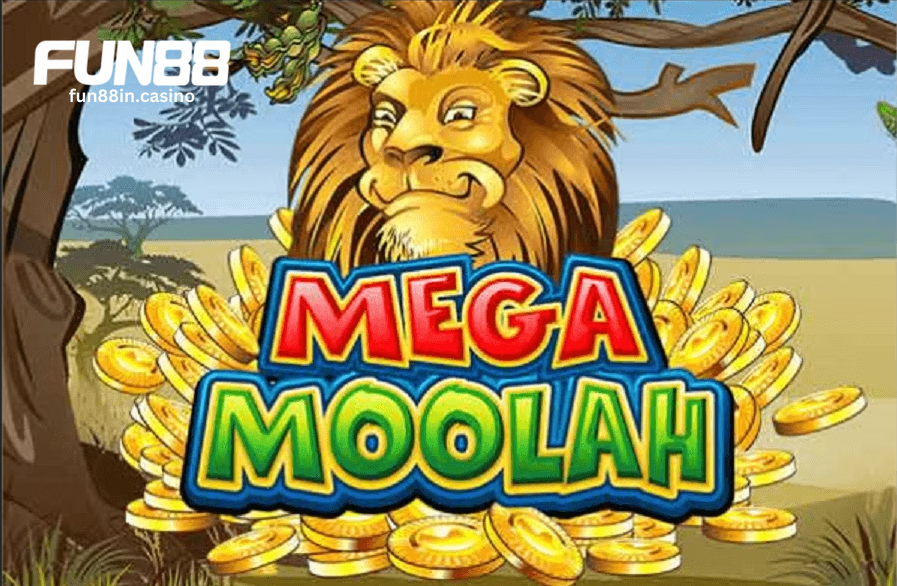 Mega Moolah is that exciting slot game that many casino players love to play. It is the most popular slot game around the world, and definitely in India as well. Since this slot is a player's favorite, many online casinos in India offer the game.
Mega Moolah is a progressive Jackpot slot from one of the world's leading gaming providers, Microgaming. Mega Moolah currently holds the Guinness world record for paying out the biggest progressive jackpot.
In this guide, you will learn how and where to play Mega Moolah.
Visit FUN88 and play real money casino games
Mega Moolah Review
Hits
Most popular jackpot slot
High jackpot
Low volatility
Misses
Lower RTP than many other slots
No free play
You have to bet huge amounts to trigger the jackpot.
The Good
Mega Moolah is very popular in the online casino world and can be found on many casinos. This means you can easily find a good casino to play at. The fact that it also pays out huge prizes to casino players makes it attractive.
The slot is available for play on all kinds of devices, all you need is a good internet connection.
The Bad
There are so many people competing for the Jackpot in Mega Moolah. Hence, the odds of being the jackpot winner is really low.
It also needs larger bets to increase the chances of the jackpot. This can make it unattractive to low-rollers.
What is the Mega Moolah Slot?
Mega Moolah is one of the world's most-played progressive jackpot slots. It is a savannah themed slot which features the well-known animals from Africa. It involves the simple game mechanics of 3 rows, 5 reels, and 25 paylines. Also featured in the game are exciting free spins, multipliers, and the jackpot bonus game.
This progressive slot happens to be one of Microgaming's most successful releases. It has grown in popularity and enjoyed acceptance from many players in different parts of the world. For over 10 years till today, it remains one of the most played games you will find at online casinos.
Mega Moolah has an RTP which stands at 88%. However, there are variants of the game and you may find them having different RTPs. The slot offers four jackpot prizes: the Mini, Minor, Major, and Mega Jackpots. 
Since it was launched in November 2006, Mega Moolah has made many casino players mega-millionaires. Only two years after the release, Mega Moolah made its first millionaire in 2008 paying over $5.5 million. In recent times, it has paid €18.9 million and $20.1 in 2018 and 2019 respectively. The €18.9 million (over $21 million) in 2018 to date is the biggest online slot jackpot payout ever.
How to Play Mega Moolah
If you already play online slots, you will find Mega Moolah easy to play. But even if you are playing for the first time, taking the following steps will make it easy for you.
1. Register at an online casino
It starts with finding a trusted and licensed casino to play at. Sign up and follow the instructions given to make your deposit. You should also know the terms and conditions of your chosen casino. You can check any of the casinos listed above. 
2. Select Mega Moolah slot
Locate the games collection section and find Mega Moolah. It is easy to find this section in most good casinos. Just click on "Play" or "Play for real money" when you find the slot.
3. Select the number of paylines and coins
Before you can start the main game, you will have to make your bet. Choose the number of paylines you want to activate and the coins to use for your wager.
4. Hit the spin button
Just like many other slot games, the spin button is used to set the reels in motion. You can then watch the reels spin and wait for the outcome.
5. Watch out for the Jackpot Wheel
The Jackpot wheel will be introduced when the jackpot bonus game is triggered. You have the opportunity to win any of the four jackpots when you spin the jackpot wheel.
Mega Moolah Features
RTP: 88.12%
Provider: Microgaming
Reels: 5
Volatility: Low
Paylines: 25
Software: Microgaming
Free spins round: Yes
Min. Wager: 10 INR
Max. Wager: 602 INR
Max. Payout: 750 coins
FAQ
🎰 How Do I Win the Mega Moolah Jackpot?
There is no specific method by which you can win Mega Moolah. It works like every other slot game which is based on chance. You can however improve your chances by applying some of the tips shared in this article.
🎰 Is Mega Moolah a Scam?
No, Mega Moolah is a real casino game. Even though you feel it sounds too good to be real, it is. It pays out for real and has made so many people millionaires.
🎰 What is the RTP of Mega Moolah
The RTP of Mega Moolah slot is 88.12%. 
🎰 Why is Mega Moolah Jackpot So Big?
The Jackpot on Mega Moolah is progressive. Every time someone plays and does not win, a percentage of that loss is placed in the jackpot. Since Mega Moolah is linked over hundreds of online casinos around the world, the jackpot accumulates fast and big.
🎰 Can I Play Mega Moolah in Hindi?
For now, Mega Moolah is only available in English language on most casinos. But it is easy to play and does not require too much knowledge of the language to play.
🎰 How Do I Withdraw Winnings From Mega Moolah?
This depends on the casino at which you play. Check for the deposit and withdrawal methods and ensure you find one convenient for you.
Experience several seasons of casino games when you play here!
all fun at FUN88!
Read more articles about online casinos