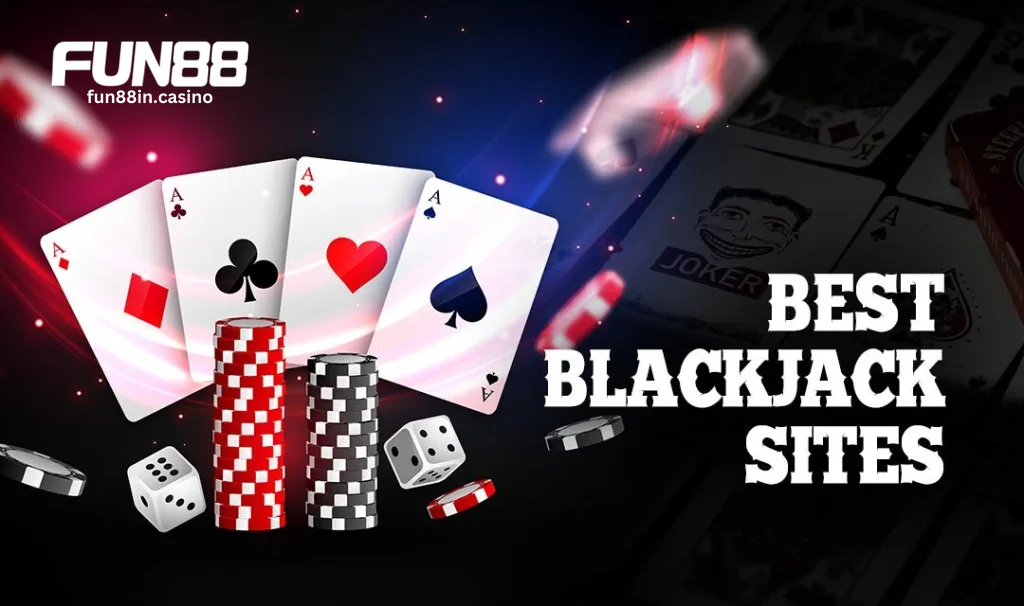 Online blackjack is one of the most famous casino game around the globe and very popular in India. Unlike many other well-known casino games, such as Andar Bahar and Online Roulette, blackjack is a classic table game that requires both strategy and luck.
This guide to playing online blackjack in India will teach you simple rules and useful strategies for playing blackjack! I have also listed the best online blackjack sites in India for your convenience.
Visit FUN88 and play real money casino games
How to Play Blackjack
Before you go ahead to play online blackjack for the first time, you must know the basic rules. Some of the things to bear in mind include how to place bets, determine your score, and choose your move.
For bet placing, each player must first place an initial bet before the dealer gives out the playing cards. The minimum bet is usually ₹5. The maximum bet varies greatly depending on the casino site. Some sites even have unlimited bets.
In Online Blackjack all number cards equal their face value. All face cards equal 10. Ace equal 1 or 11.
Once the initial bets are placed, the dealer will proceed to hand two cards to each player, and for himself. Online blackjack is played with 1 to 9 deck of 52 cards each. The dealer turns one of his cards facing up for everyone to see. The second card, which will be left to face down, is called the hole card. At this point in the game, you, as a player, can see your cards so you can determine your score.
The values of the cards equals their numerical value from 2-10. All face cards (Jack, Queen, King) equal 10 and the Ace equal 1 or 11.
The next thing you must do is choose if you want a new card (hit me) or skip. The goal is to win the dealer by getting a score that is closest to 21. If you get 21 or if you are closer to 21 than the dealer you win. If you get a sum that exceeds 21, you lose.
Popular Blackjack Variants
There are different types of online blackjack available for players to choose from. Once you know how the game works, it is left to you to choose which variant you prefer. Below are the most popular types of online blackjack.
Live Speed Blackjack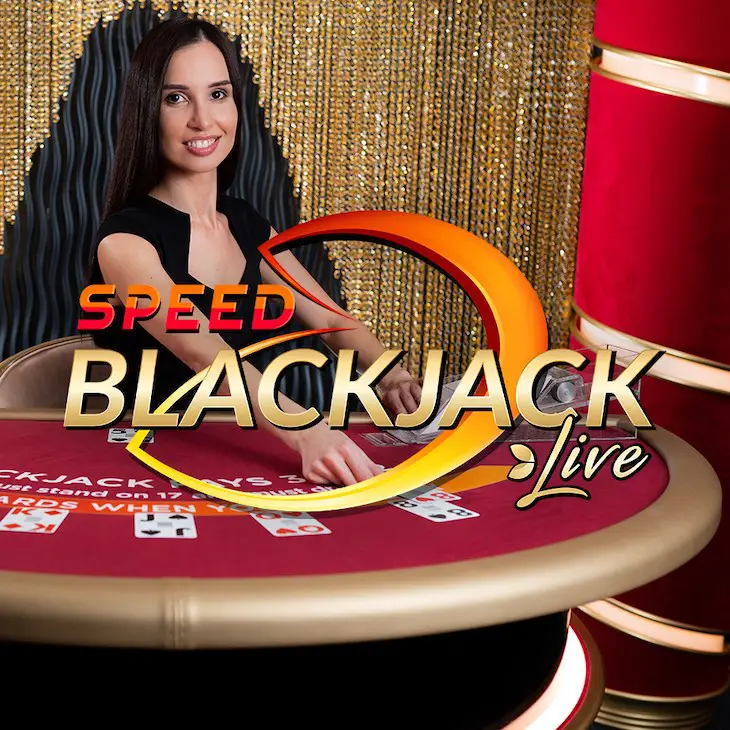 Live Speed Blackjack is 30% faster than standard Online Blackjack. It is played with seven players, each player receives two cards initially. The dealer then deals additional cards to the player who makes the quickest decision.
In addition to traditional bets, you can also bet on three additional side bets. This can increase your chances of winning.
Live Speed Blackjack has a RTP of 99.29%.
Infinite Blackjack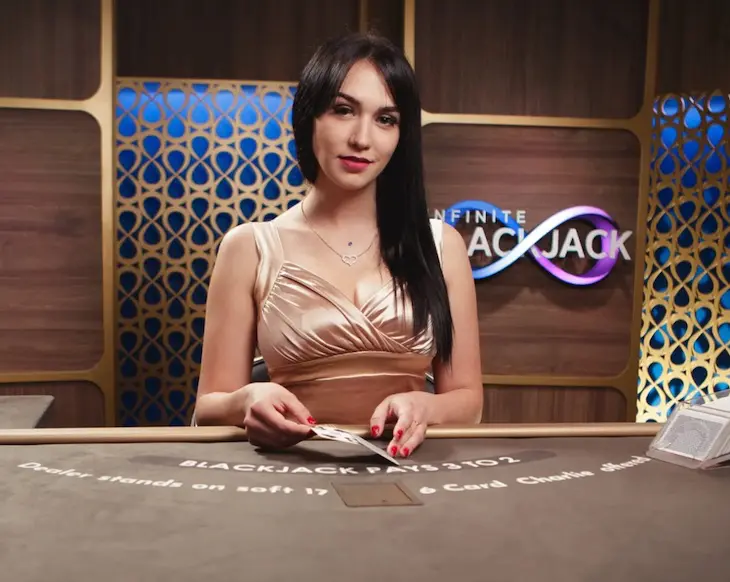 Infinite Blackjack has one of the highest RTP thanks to its additional feature called six-card Charlie bonus. What this means is that if you get dealt 6 card, without going bust, you win. It doesn't matter if the dealer gets Blackjack or a higher card value than you.
Another great feature with Infinite Blackjack is that this live game is played in a quiet setting without any distractions. You won't see any other dealers or tables, like you normally do with other live blackjack games.
Infinite Blackjack has a RTP of 99.47%.
Bollywood Blackjack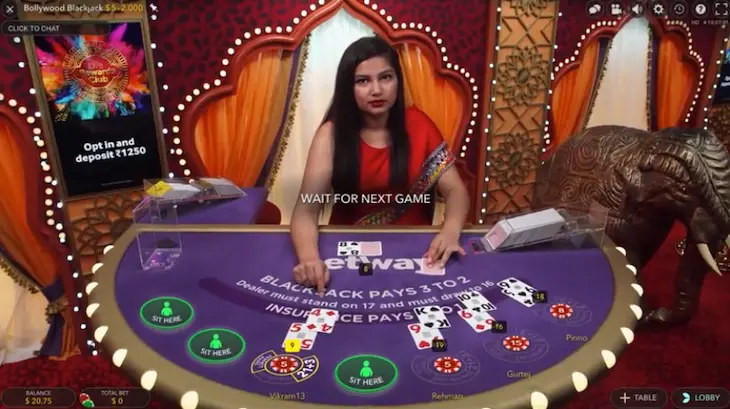 Bollywood Blackjack is a Blackjack version from Evolution Gaming. In this game the dealer speaks Hindi and the live stream takes place in a Bollywood-themed studio.
There are two types of Bollywood Blackjack games and both of them are based on the standard 7 seat Blackjack. The only difference is the betting range. There are also three optional side bets on both games.
Bollywood Blackjack has a RTP of 99.41%.
American Blackjack
American Blackjack is a user-friendly online blackjack variant and offers a few benefits to take down the house edge with ease. Firstly, the dealer in this game is only allowed to peek at his own hand. Also, the dealer in this variant stands on soft 17s and higher. Finally, sticking to the basic strategy may guarantee a player to win a bet double each round.
American blackjack has a RTP of 99.53%.
Classic Blackjack
The classic blackjack is the original variant of online blackjack casino games which is a favorite of many gamblers. The rules of the classic blackjack are easy to learn, and you just might get carried away with the gameplay.
Classic blackjack has a RTP of 99.41%.
Blackjack Azure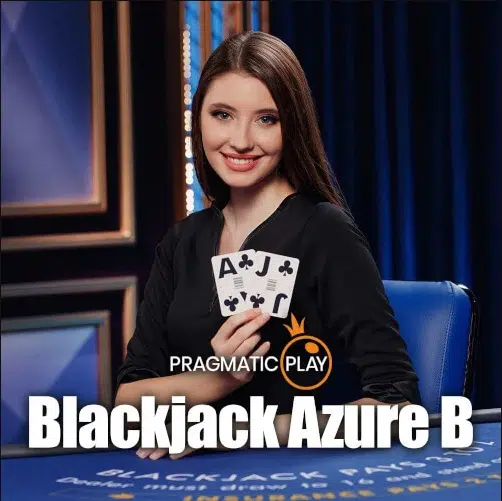 Blackjack Azure is very similar to traditional online Blackjack. The difference is that the studio has a Great Gatsby feel to it. The game also offers two bonus features and two side bets.
This blackjack variant attracts all types of gamblers as it offers 10 different tables (A-Z) with different betting limits.
Blackjack Azure has a RTP of 99.59%.
One Blackjack
One Blackjack is played in the same way as most online blackjack variants, except for two differences. The first difference is that the players cards are placed in a semi-transparent container, instead of being placed directly on the table.
The second difference is the additional side bets known as Crazy 7. If your first two cards and the dealers up card will all be 7s, you can win huge.
One Blackjack has a RTP of 99.28%.
Power Blackjack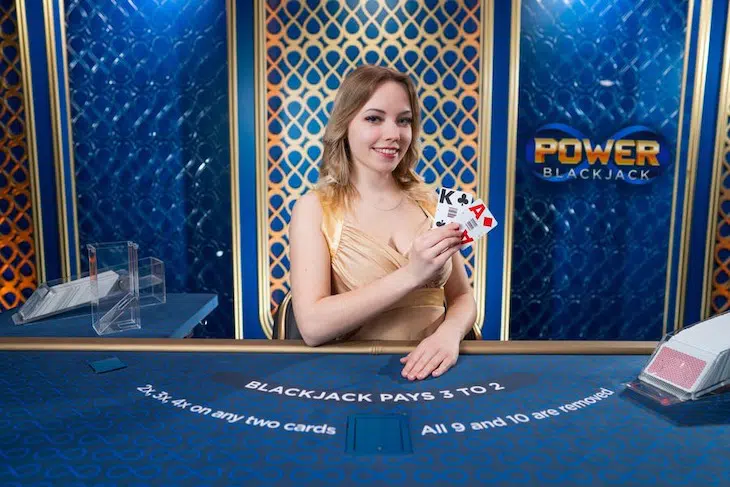 Power Blackjack is an exciting version of online Blackjack as all 9s and 10s are removed from the deck. So instead of 416 cards, only 352 cards are used.
When you play Power Blackjack you also have the option to double, triple and quadruple your bet after receiving your first two cards.
Power Blackjack has a RTP of 96.58%.
Free Bet Blackjack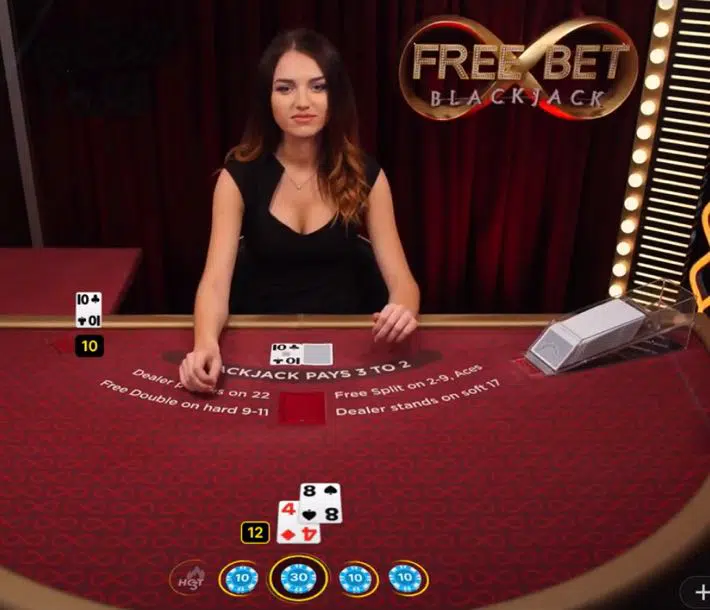 Free Bet Blackjack is another interesting variant of online blackjack. Here you are given free bets. For example, you get a free double bet when your hand equals 9, 10 or 11. You also get a free split when your hand contains a pair of 10s.
Another feature is that when the dealer busts at 22, all winning hands are return. That means you don't get to keep your winnings should you win and the dealer busts at 22.
Free Bet Blackjack has a RTP of 98.45%.
High Limit Blackjack
With high limit online blackjack games, players are allowed to enjoy the excitement of big bets. This happens in a blackjack game that has a very small house edge. This could mean enjoying a rollercoaster that could generate a big win, or simply get the blood pumping!
The RTP for this variant is 99.60%.
Multi-hand Blackjack
This is a online blackjack variant that gives players a bigger chance of grabbing a winning hand. The basic classic blackjack rules still apply here. With Multi-hand Blackjack, a player is allowed to play with as many hands as they decide to play with. It all boils down to the maximum hands that have been stipulated by a particular casino.
The most significant advantage in this variant is that many hands offer you a higher chance of winning. You will also get more insight, which can help you predict which cards may still come up.
The RTP for Multi-hand blackjack is 99.60%.
Double Attack Blackjack
This exciting blackjack variation is for players who want to escape the popular classic blackjack rules entertainingly. This game features advantageous rules, 8 Spanish card decks, two thrilling side bets, and high payouts with its good-quality graphics. You can see this variant of blackjack as a perfect one.
The RTP is 99.53%.
Super Fun 21
Super Fun 21 Blackjack is a unique variant of blackjack. This game uses rules from classic blackjack, as well as some rules that are peculiar to the game. In super fun 21, the natural blackjack of a player always beats that of the dealer.
The RTP for Super Fun 21 is 90.10%.
Blackjack Switch
This variant of blackjack was invented in 2009 by a man known as Geoff Hall. In this variant, the croupier will deal you two hands instead of one. Since you in this game have two hands, you can switch the two cards on top between hands.
If you land a Blackjack after the cards are dealt or switch hands, the game pays 1:1 rather than 3:2. Once the croupier gets a 22, it becomes a push automatically, unless you get a Blackjack without switching hands.
The RTP for this blackjack variant is 99.27%.
Perfect Pairs
Perfect Pairs is played in the same way as European Blackjack. The only difference is that Perfect Pairs allows you to place an additional side bet, in addition to the standard bet. You win from the side bet if you get a pair on your two first dealt cards.
The RTP for this blackjack variant is 99.51%.
Blackjack Games With The Highest RTP
High limit blackjack: 99.60% RTP
Multi-hand blackjack: 99.60% RTP
Blackjack Azure 99.59%
American blackjack: 99.53% RTP
Double attack blackjack: 99.53% RTP
Infinite Blackjack: 99.47% RTP
Classic blackjack: 99.41% RTP
Experience several seasons of casino games when you play here!
all fun at FUN88!
Read more articles about online casinos