Want to play Infinite Blackjack? Keep reading to learn how to play Infinite Blackjack and where to play.
Visit FUN88 play any kind of card games
What is Infinite Blackjack?
Infinite Blackjack is another live Blackjack game designed by Evolution Gaming. It uses the regular Blackjack table and allows an unlimited number of players to participate at the same time.
Unlike many other versions of Live Blackjack by Evolution Gaming, Infinite Blackjack takes place in a quiet environment. You won't find other casino tables or dealers around. When you play the game, it's you and the dealer alone.
Infinite Blackjack is played in a quiet environment, without any distractions
Another extra feature in Infinite Blackjack is the six-card Charlie bonus. You can't find this feature in any other Blackjack version.
How to Play Infinite Blackjack
The game is played with 8 decks of cards. It follows the same rules as the standard online Blackjack. The gameplay is also like that of the standard Blackjack live by Evolution Gaming.
Ace card counts as 1 or 11, picture card count as 10, and number cards take their face value. You win when you get 21 (blackjack) or a total value higher than that of the dealer. However, when you go above 21, you bust (lose).
Here is how to play Infinite Blackjack from Evolution Gaming
Step 1: Place your bets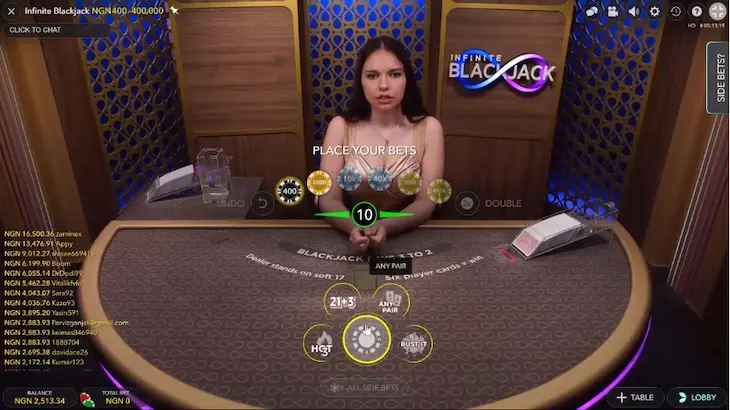 You have a total of 16 seconds to place your bet. You can choose between 1, 5, 25, 100, 500, 1000, and 2x.
There are four optional side bets you can place. We have written more about the side bets further down in this article.
Step 2: The dealer deals the cards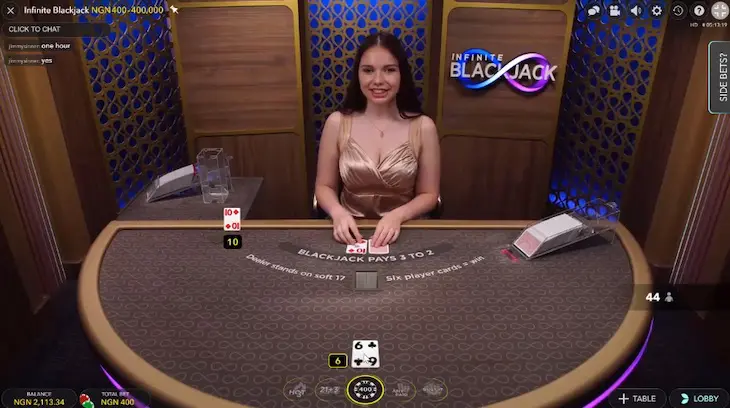 After betting, a total of 4 cards are dealt. The dealer deals first to you, and then to herself. The first two cards are faced up.
She deals again to you first and then herself. This time, only your card is faced up, the fourth card dealt to himself is faced down.
The total value of your cards will be displayed on the screen, so you won't have to count. The value of the dealer's card will also show on the screen.
Step 3: Decide if you want to stand or keep playing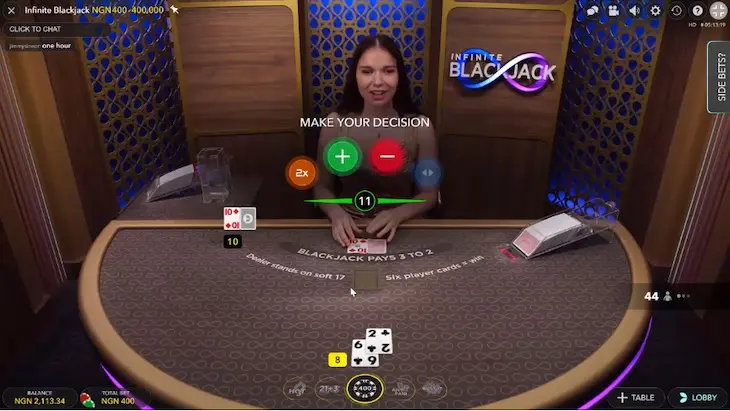 Here, you decide whether to hit or stand. If you choose to continue, you can place side bets again.
In Infinite Blackjack, many players participate at the same time. Thus, when you choose to stand, the dealer will keep dealing until the player gets 21 or bust.
Step 4: The dealer shows her hidden card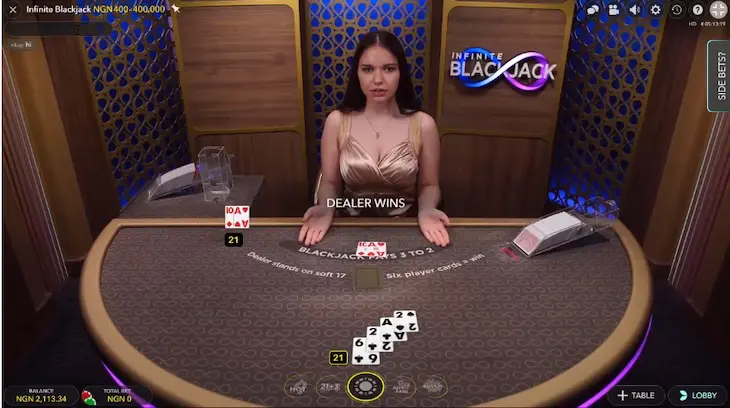 After the player reaches Blackjack or busts, the dealer opens her face down card. She must hit on 17 (even soft 17).
That is, if the value of his first two cards equals 17 or is lesser than, she has to keep dealing. The dealing continues until she gets 21, a number between 18 to 20, or bust.
The value of the dealer's card hand is calculated and potential payouts are made. These are the three major outcomes that determine if you win:
If you get a total cards value of 21, you win
A total value less than 21 but higher than the dealer's cards also wins
A total value higher than 21 busts. That is, you lose the game
The exclusive six-card Charlie feature also grants you a win. It kicks in when you're dealt 6 cards, without exceeding 21. If this happens, you win the game even when the dealer gets a Blackjack.
Experience several seasons of casino games when you play here!
all fun at FUN88!
Read more articles about CARD GAMES