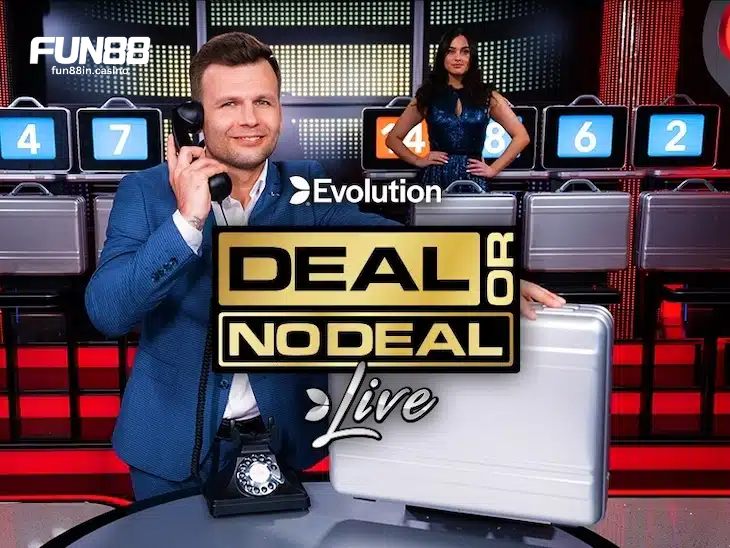 Deal or No Deal, also known as Deal Ya No Deal, is a popular live casino game from Evolution Gaming. It's entertaining and offers high cash rewards.
In this article I've covered everything you need to know to start playing the game. Keep reading to learn how to play Deal or No Deal, where to play and strategies.
Visit FUN88 and play real money casino games
How to Play Deal or No Deal Online Game
Deal or No Deal follows a similar pattern to Monopoly live and Live Dream Catcher. However, it's a bit tricky to learn, it took me some time to learn how to play the game. But once you start playing, it gets easier.
This is how you play Deal or No Deal by Evolution Gaming:
Step 1: Qualification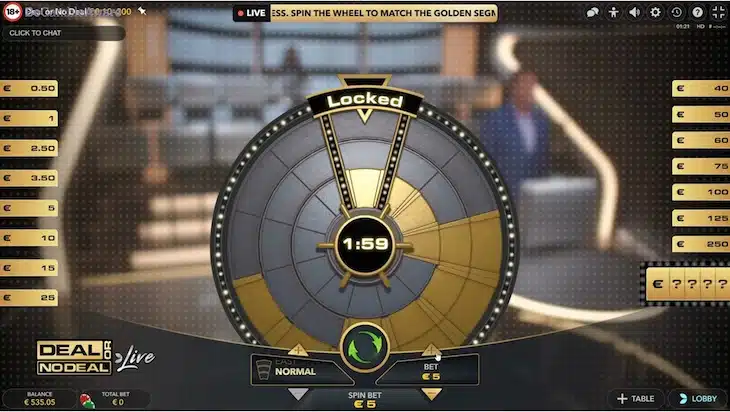 You'll need to qualify for the Deal or No Deal game before you can play. To do this, simply play a wheel-like slot game. During this slot game, you must land three golden segments within a particular area in order to qualify. 
As expected, you must place a bet before making a spin. You can spin the wheel in three different modes; normal, easy, and very easy. These modes determine how many sections of the game you'll unlock:
Easy mode – unlocks one out of three sections and costs 3x your bet.
Very easy mode – unlocks two out of three sections and costs 9x your bet.
Normal mode – doesn't necessarily unlock any sections and costs your regular bet.
You will also find 16 briefcases numbered 1 to 16 on the screen. Each briefcase contains a multiplier. The higher the briefcase number is, the higher the multiplier will be.
Everytime you place a bet, an amount is added to each briefcase. The exact amount that is placed in each briefcase equals your bet times it's multiplier.
Example: Briefcase 10 has a multiplier of 10x. If you bet ₹100, ₹100 x 10 = ₹1,000 is added to briefcase 10.
This means that the more money you bet during the qualification the more you can win, if you qualify to play Deal or No Deal.
Below is the table for each briefcase and multiplier:
| | |
| --- | --- |
| Briefcase | Multiplier |
| Briefcase 1 | 0.1x |
| Briefcase 2 | 0.2x |
| Briefcase 3 | 0.5x |
| Briefcase 4 | 0.7x |
| Briefcase 5 | 1x |
| Briefcase 6 | 2x |
| Briefcase 7 | 3x |
| Briefcase 8 | 5x |
| Briefcase 9 | 8x |
| Briefcase 10 | 10x |
| Briefcase 11 | 12x |
| Briefcase 12 | 15x |
| Briefcase 13 | 20x |
| Briefcase 14 | 25x |
| Briefcase 15 | 50x |
| Briefcase 16 | 65-500x |
Step 2: Top up the briefcases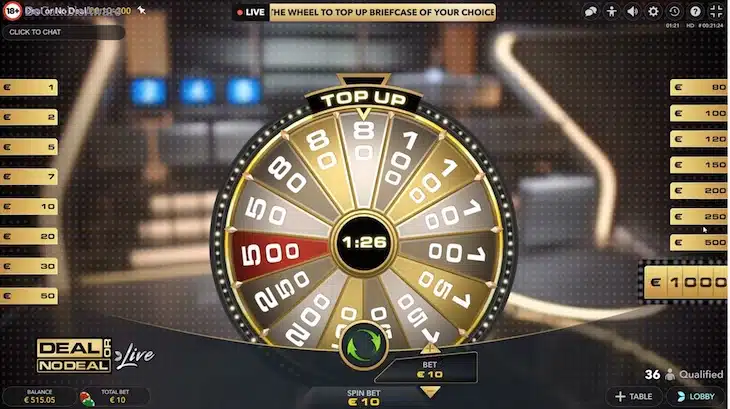 This step is optional. You may proceed if you wish to increase the amount in each briefcase or simply ignore it. 
Choose the briefcase you wish to top up, and then select the amount you want to add. After that, spin the wheel (which now consists of multipliers). Whichever multiplier the wheel lands on is added to the briefcase. 
Example: Assume that you decide to add ₹2,000 to Briefcase 12. After the wheel is spun, a 75x multiplier is selected. A total of ₹150,000 (2,000 x 75) will be added to Briefcase 12.
You can top up more than one briefcase if you want, you can also top up all of them.
Step 3: Play Deal or No Deal (the main game)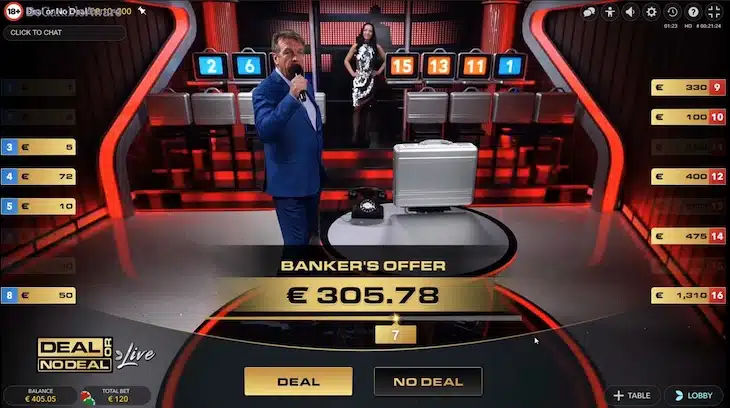 At this point, you are set to Deal or No Deal. You'll find two live hosts, a male dealer and a woman assisting the dealer. You'll also find 16 closed briefcases in the game. 
There'll be 16 numbers on the screen with amounts assigned to each. These amounts represent your bets in previous rounds.
To begin the game, the assistant opens 3 briefcases revealing 3 numbers that also appear on the screen. These 3 numbers are now removed from the round. Here, the dealer makes his first offer which you can either accept (Deal) or reject and continue playing (No Deal). You have 12 seconds to decide. 
If you choose to keep playing, the assistant opens four more briefcases. Again, the numbers are removed from the round and the dealer makes another offer. 
When there are only two briefcases left, the dealer makes his final offer. You can either accept the final offer or change briefcase
Here, the game round comes to an end. If you decide to play again, you can go back to the qualification stage.
Experience several seasons of casino games when you play here!
all fun at FUN88!
Read more articles about online casinos